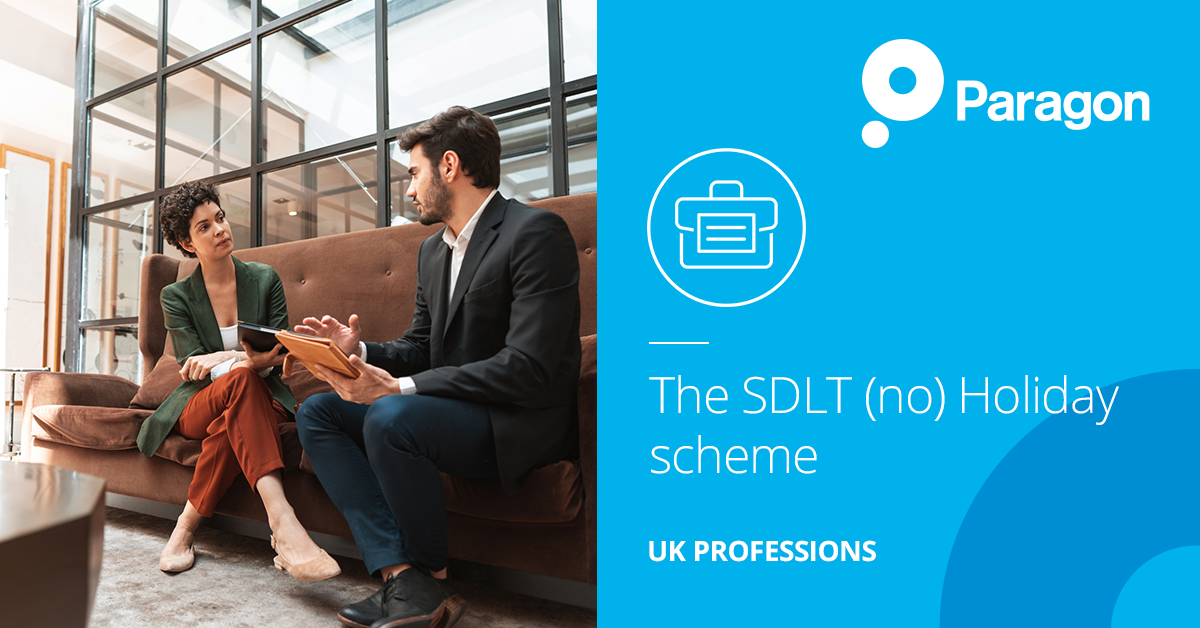 In continued partnership with Paragon, Weightmans' Compli platform – who provide bespoke risk management and compliance consultancy services – have produced a white paper exploring the possible risks stemming from the SDLT Holiday scheme. In this article they explore the risks, the continued obligations imposed by the SRA, the ever-growing operational burdens and of course some of the actions firms might consider taking to mitigate these risks.
Let's face it, 2020 has been a rubbish year. The word "unprecedented" has been used an unprecedented number of times and conveyancers will, I am sure, agree that this is a year like no other.
At first, there was lockdown, nothing moved for two months.
And then, to help ease the financial pain experienced during lockdown and to support and stimulate the residential conveyancing market after a very difficult time, the Chancellor introduced an SDLT "holiday" which came into effect on 8 July 2020 and runs through to 31 March 2021. Whilst this was welcomed as a positive move for the economy, leading as it has to a huge surge in instructions to conveyancers across the country, this surge has also created significant risks both to consumers and the conveyancers acting for them.
So, what are these risks?
These have been helpfully identified in letters written to the Chancellor from the Home Buying and Selling Group (dated 29 October 2020), a joint letter from the Society of Licensed Conveyancers / Bold Legal Group/ The Conveyancing Association (dated 17 November 2020) and representations from the Law Society. In summary:
Average property transaction times are lengthening as a result of the surge in demand and operational constraints as a result of Covid-19.
Delays in the issues of searches – for example, Hackney Council have been the first Local Authority to confirm they won't be able to complete searches by the deadline.
Delays in mortgage offers and additional restrictions by underwriters are causing delays in issuing or extending mortgage offers.
The relatively short holiday window ends abruptly based on completion dates which potentially creates a "cliff-edge" of instructions with buyers saying that they will pull out of the transaction if it is not completed before 31 March when the SDLT holiday ends.
Delays in obtaining leasehold information from managing agents
The operational issues for conveyancers, in addition to the above, include:

Reduced team numbers due to furlough, causing a backlog and a reluctance to hire new people to ease the burden and clear the backlog as instructions could drop off rapidly after March 2021.
Conveyancers are under a huge amount of stress, working extremely long hours. This is not only causing issues with their mental and physical health but could also potentially lead to important issues being missed and negligence claims further down the line.
Working from home and not meeting clients face to face in a stressed environment is increasing the risks of identity fraud and money laundering.
Whilst juggling all these issues, conveyancers also need to bear in mind their obligations under the SRA Principles and Codes of Conduct including:
2 Code for solicitors: "You ensure that the service you provide to clients is competent and delivered in a timely manner."
4 Code for solicitors: "You consider and take account of your client's attributes, needs and circumstances."
1 Code for solicitors: "You identify who you are acting for in relation to any matter."
5 Code for firms: "You identify, monitor and manage all material risks to your business."
3 Code for firms: " You ensure that your managers and employees are competent to carry out their role, and keep their professional knowledge and skills, as well as understanding of their legal, ethical and regulatory obligations, up to date."
4 Code for firms: "You have an effective system for supervising clients matters."
5 Accounts rules: "You ensure that client money is returned promptly to the client, or the third party for whom the money is held, as soon as there is no longer any proper reason to hold those funds." The SRA referred to this at its recent COLP/COFA annual conference on the issue of the SDLT holiday.
So what can conveyancers do to mitigate the risks of negligence claims and/or complaints to the Legal Ombudsman/the SRA?
Managing clients' expectations will be key. Firms should be advising clients upon being instructed of the difficulties being experienced, including warnings in their client care letters that the deadline completion date may not be achievable and that they cannot be held responsible if it is not achieved as a result of circumstances out of their control. Keep the client informed of delays in the process as they arise so that clients are not taken by surprise as the deadline looms.
Homebuyers are being advised to take out insurance to protect themselves against the risk that the deadline cannot be met. If you are advising on this, make sure that you are complying with the Insurance Distribution Activity rules.
Managing workloads will also be essential. Easier said than done of course but there are reports of solicitors refusing to accept further instructions where clients are looking to complete before March 2021. This avoids the risk altogether but of course, impacts on the firm's revenue. Turning work away is never easy especially when the expectation is that there will be a downturn after the holiday ends. Commercial decisions need to be carefully balanced against all the other factors including the risk of claims, staffing and their mental health and it would be wise to document your thought process about the approach you have decided to take.
One firm's loss (or rather refusal to accept further instructions) is of course another solicitor's gain with reports of some solicitors increasing fees to reflect demand. If you have done this, have you ensured that you remain compliant with the SRA's Transparency Rules in relation to pricing?
Be alert to your staffs' mental and physical health and provide support where needed. Your supervision systems will play a part in this as will auditing.
Be extra vigilant about client onboarding and CDD due to the increased risk of identity fraud and money laundering. If it is the fee earner's responsibility to carry out the identity checks, make it clear to them, maybe via a team meeting, that they must not cut corners on this. If client onboarding is more centralised, or electronic verification/facial recognition technology is being used, this might also reduce the risk and free up fee earners' time to focus on the legal work.
Care is also needed on source of funds/wealth checks. Are these being carried out in sufficient detail to understand exactly where the money needed for the purchase is coming from? When under pressure, the temptation to tick the box without giving any thought to this increases.
Be careful about requests to pay proceeds of sale to anyone other than the client. You will be breaching SRA Accounts Rule 3.3 if you use your client account to provide banking facilities to a client or third party.
To "Make hay while the sun shines" during the SDLT holiday period will of course be tempting, but be alert to the risks and manage them effectively to ensure that the profits made are not swallowed up by the cost of future claims.
If you have any questions about Paragon, Weightmans, Compli and their services or the above article please do not hesitate to get in touch.
Email – professions@paragonbrokers.com
Tel – 020 7280 8209
This article has been written by Michelle Garlick (of Weightmans LLP's Manchester Office).