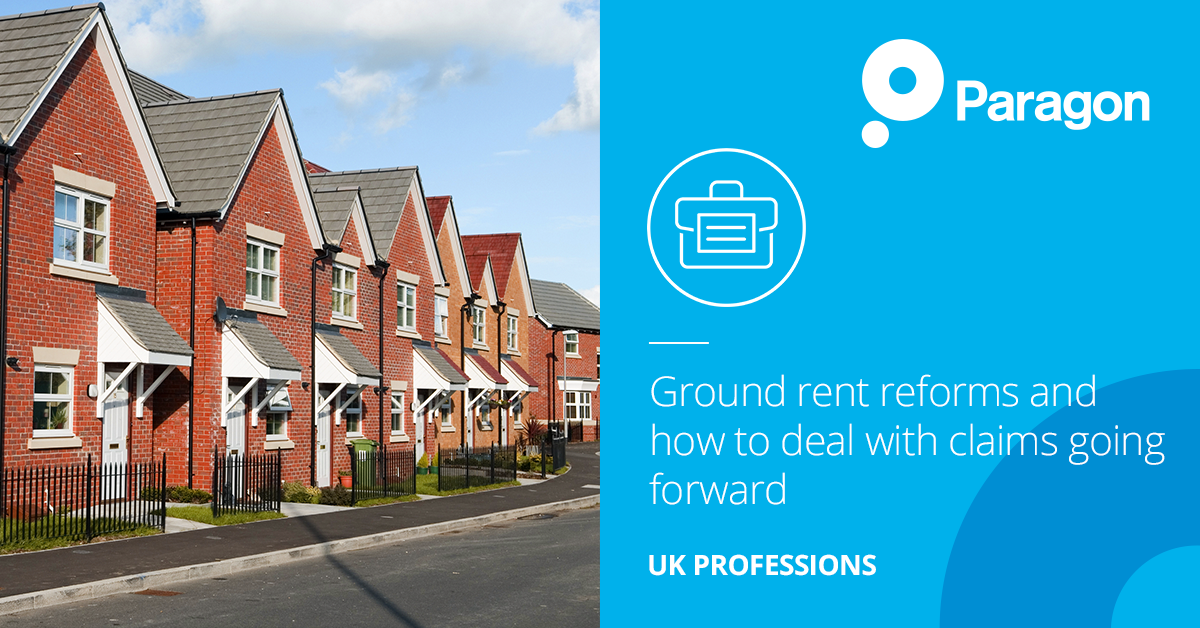 In continued partnership with Paragon, Beale & Company Solicitors LLP – who provide specialist legal advice to the legal sector – have produced a white paper exploring the Ground rent reforms.
The UK government has announced extensive reforms to allow leaseholders to extend their lease by 990 years and reduce ground rents to nil. The new legislation forms the first part of the package of reforms proposed by the Law Commission last year.
Ground Rents – an escalating problem
The practise of selling new build houses on a leasehold basis – and retaining the right as landlord to charge onerous fees as ground rent or service charges – has been used extensively over recent years by residential housebuilders as a generative additional income stream. The existence of escalating ground rent provisions in leases – which in extreme cases allow ground rent payments to double every 5 or 10 years – has become under increased scrutiny in recent years. This much-criticised side-line has often resulted in purchasing homeowners becoming trapped, as the lease provisions are sometimes so onerous that their properties effectively become unsellable as banks are unwilling to offer mortgages.
In our experience, some housebuilders, who were subject to significant political pressure, were willing to negotiate a buy-out of the escalating ground rent provisions.   Others would force the home owner down the costly statutory process to purchase the freehold.  Professional negligence claims against conveyancers who have failed to identify escalating ground rent provisions in leases and/or inadequately advised prospective buyers on the implications of such provisions have become commonplace in recent years. These claims are usually challenging to defend and conveyancers often find themselves liable for the leaseholders' costs of extending their leases
Whilst the housebuilders' commercial approach was welcome relief to the conveyancers' insurers in terms of liability exposure, the aggregate defence costs incurred in investigating and defending high claims volumes continued to be a concern.
Changes proposed
 The reforms will introduce a number of changes:
Leaseholders will have the right to extend their leases by a maximum term of 990 years;
There will no longer be any requirement to pay any ground rent to the freeholder;
There will be a cap on ground rent payable when a leaseholder extends a lease or becomes a freeholder;
Onerous charges, such as 'marriage values', which come into force in leases with less than 80 years left, will be abolished;
The government's commitment to restrict ground rents to zero for new leases will now extend to retirement leasehold properties – a move to protect the elderly from uncertain and rip-off practices; and
A Commonhold Council – a partnership of leasehold groups, industry and government – is to be established to prepare homeowners and the market for the widespread take-up of commonhold.
The reforms will be welcomed by both leaseholders and conveyancing solicitors alike, whose bargaining position in any lease extension process will undoubtedly be strengthened going forward.
Practical guidance for dealing with claims going forward
Whilst conveyancers may remain liable for leaseholders' costs of extending their leases, those costs are likely to be lower and more transparent. This should assist without-prejudice negotiations and result in lower settlements – possibly within your professional indemnity insurance excess.
If you have any open circumstances, which have not yet become claims, it may be sensible to await implementation of the reforms before progressing matters. In this vein, if you are approached by a client raising concerns regarding the ground rent provisions in their lease, the client should, in the first instance, be informed of the above reforms which are due to be implemented shortly and the possible impact of these on their situation. Of course, if a claim against the firm seems likely, the client should be advised to obtain independent legal advice.
Going forward, the removal of ground rent provisions in new leases will undoubtedly dampen this current trend of claims against conveyancers – a development which will be welcomed by conveyancers and their professional indemnity insurers.
Whilst the reforms are intended to relieve leaseholders (and their lenders) who have become "trapped" by the escalating ground rents, the proposed reforms will be a welcome intervention into claims against conveyancers and their insurers.
Michelle Bakker and David McArdle, of Beale & Company Solicitors LLP have authored this article.  If you have any questions raised by the content of this article, Paragon, Beale & Company please get in touch using the details below.
CONTACT US – For more information about Paragon, our tailored indemnity solutions and specialist risk management services, please contact:
Martin MacHale
T  +44 (0)20 7280 8209M  +44 (0)7854 314 344
Ryan Senior
T  +44 (0)20 7280 8254M  +44 (0)7827 575 652