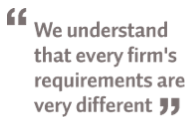 Overview
Paragon risk management services is a separate division created to provide an advanced level of risk management, business practice management and loss prevention advice to our clients.
We have entered into relationships with specialist 3rd party providers with extensive experience in professional responsibility, risk management and loss prevention services, and who are available to customise and implement valuable and relevant support and bespoke programs designed for Paragon's clients.
It is our goal at Paragon that the services provided will not only help to deliver a more competitive insurance program for our client, but also play a proactive role in helping to develop enhanced procedures, allowing them to devote more time to their business and their clients, and less time and expense solving internal risk management issues.
During the initial insurance placement process, your broker will discuss your risk management needs and, where applicable, will negotiate a dedicated risk management budget from your insurers.
Paragon is dedicated to providing additional support to its clients which not only help make them more profitable in their own right but also helps differentiate them in the insurance market place.
For further information, please contact Natasha Watson at nwatson@paragonbrokers.com.